PROBLEM STATEMENT


People are increasingly busy.
Technology helps us get connected and be more productive. For instance, to people so digitally-connected that things happen instantaneously, the mentality of "want it now" tempts them to cramp more tasks into their daily schedule; a scenario where one is placing lunch delivery order, buying a bouquet of flower and arranging with a renovator contractor concurrently is commonplace. On the other hand, office executives who are parents are no stranger to a daily dilemma on how to split their time between work, school, household, and family. Similar situation with a different script is played in almost everyone's lives nowadays.
The common denominator is that one's available time is getting scarce. Time itself is fast becoming more sought after and therefore, more precious than ever.
What if our precious time can be commoditised?
What if it is something we can buy and sell?
THE SOLUTION
Timev is a mobile application platform that applies the concept of sharing economy by connecting people looking to sell their time with people looking to buy time. To buy time, buyers specify how much they are willing to pay per hour with a description of the task assignment. And to sell time, sellers search for a task assignment within a 10 to 50 km radius. There is no limitation to what the task may be in each assignment (as long as it is legal), or what the value of the time may be. It is all up to the buyers and sellers to agree mutually, appropriate to each unique circumstance in the marketplace.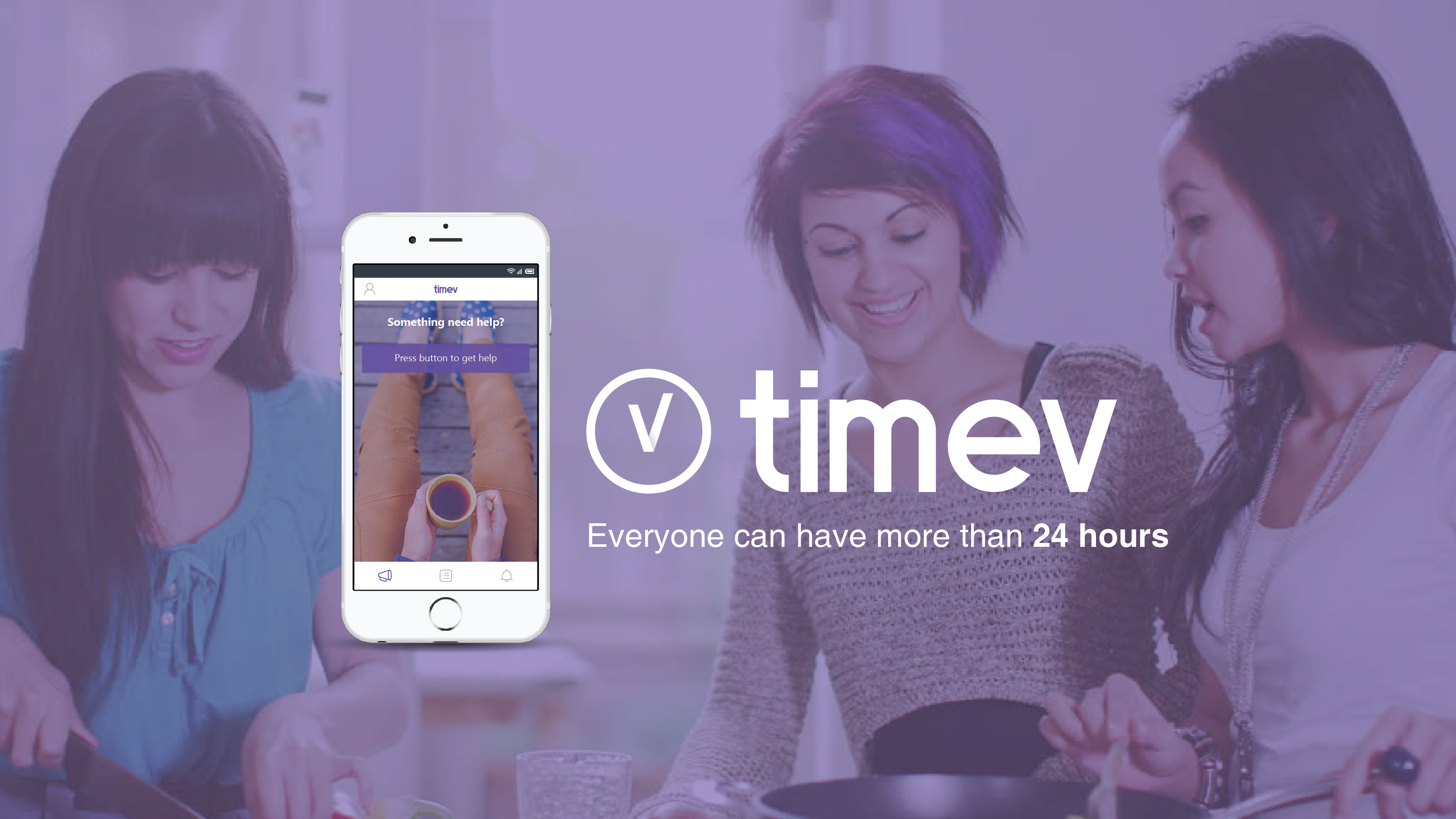 INVESTMENT HIGHLIGHT

We believe Timev is the only platform in Malaysia where users can buy and sell their time, with no limitation to what the task may be in each assignment (as long as it is legal), or what the value of the time may be. It is all up to the buyers and sellers to agree mutually, appropriate to each unique circumstance in the marketplace.



REVENUE MODEL

Current
Platform fee: We charge our time sellers 20% of the transaction value as platform fee. For instance, John sells RM100 an hour to Jane to perform a particular task, so Timev will receive from John RM20 (20% of RM100) as platform fee, before crediting the remainder of RM80 to John.

Future
Big data analysis: As we continue to collect data from our users on how much and what they are buying/selling their time for on our platform, this could potentially give us valuable big data that allows us to analyse it for meaningful trends and preferences in time usage in any geography where our users are located. While we currently do not generate any revenue from big data analysis, we expect this could be a potential additional source of revenue to us in the future.



FUNDING OBJECTIVE

Funding amount required: RM400,000-RM1,000,000

50% of the fund will be used for offline/online marketing and social media presence

25% of the fund will be used for IT development such as upgrade of server, website, mobile application

25% of the fund will be used for human resource including hiring for administration and customer service staff, programmers, marketers and designers



MANAGEMENT TEAM


Pierre Chua, Founder & Chief Executive Officer


Director and Co-founder of King's Academy Sdn Bhd (a leading investment learning academy in Malaysia)

Bachelor of Finance (Hons) from University of Hertfordshire, UK; BSc in Mechanical Engineering from Western Michigan University, UK


Kingsley Tan, Co-Founder & Chief Financial Officer


CEO and Co-founder of King's Academy Sdn Bhd (a leading investment learning academy in Malaysia)

Bachelor Degree of Accounting & Finance (Hons) In LSE (London School of Economics and Political Science)

Published "BlueRed Trading Guide" and achieved top monthly sales in MPH and POPULAR book stores


Soon Yong, Co-Founder & Chief Design Officer


Author of the famous online comic "SIMPLE TOWN COMIC"

Specialized in corporate branding, UI/UX, graphic and animation design

CORPORATE INFORMATION AT A GLANCE
Company name

Timev Asia Sdn Bhd

Registration number

1167384-A

Date of incorporation

27th Nov 2015

Registered and business address

Unit 1-04, 1-05, 1-06, No 61, Jalan Harmonium 35/1 Taman Desa Tebrau, 81100, Johor Bahru, Johor Malaysia

Company secretary

JNC Management Services
No. 01-30 Jalan Austin Perdana 2/23, Taman Austin Perdana 81100 Johor Bahru Johor Malaysia
Auditor

CS Lee & Associates

Website URL

www.timev.co