Problem Statement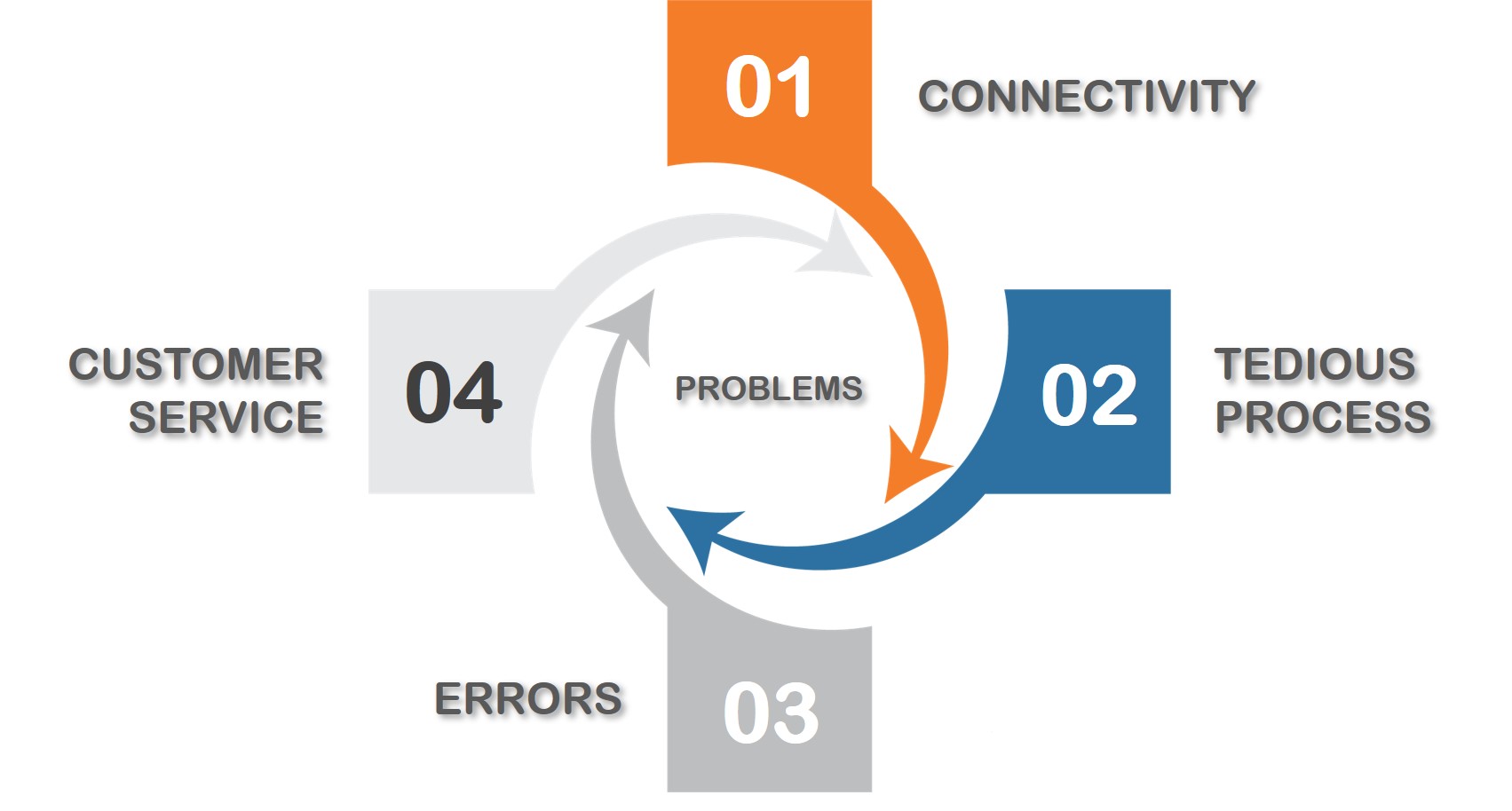 1. Determining which freight company is right for a business means looking at the advantages and disadvantages of each type of freight partner and how they will impact the business. For example their list of services, their experience and credentials, their network and coverage, etc. Some freight companies focus on offering the lowest price, while others might tout their technology above all or prioritize customer service. There is never one that has everything.
2. Unlike small packages, when it comes to international shipments, there are typically two type of physical steps and two documentation stages that needs to be completed. We have the export and import haulage and the export and import customs clearances. A recent write up by The Economist showed some 42% of the people said they spent more than 2 hours on paperwork only to arrange a shipment and 83% said they struggle to track items as they move across the world. The article was featured on the 26th of April 2018.
3. Errors can occur at a number of points during shipment processing for example incorrect weight or dimension, incorrect declaration of goods or bad shipping addresses. It is easy to view such errors as isolated incidents but taken together can add up a big penalty on top of the freight cost.
4. Lack of support is one of the biggest problem in the freight industry. Most freight forwarders thrive by keeping their overhead cost low by often not investing in customer support. The salesperson serves to represent the company by sales and the only one to go to when problems arise. Any delays could be expensive to the shipper.
Solutions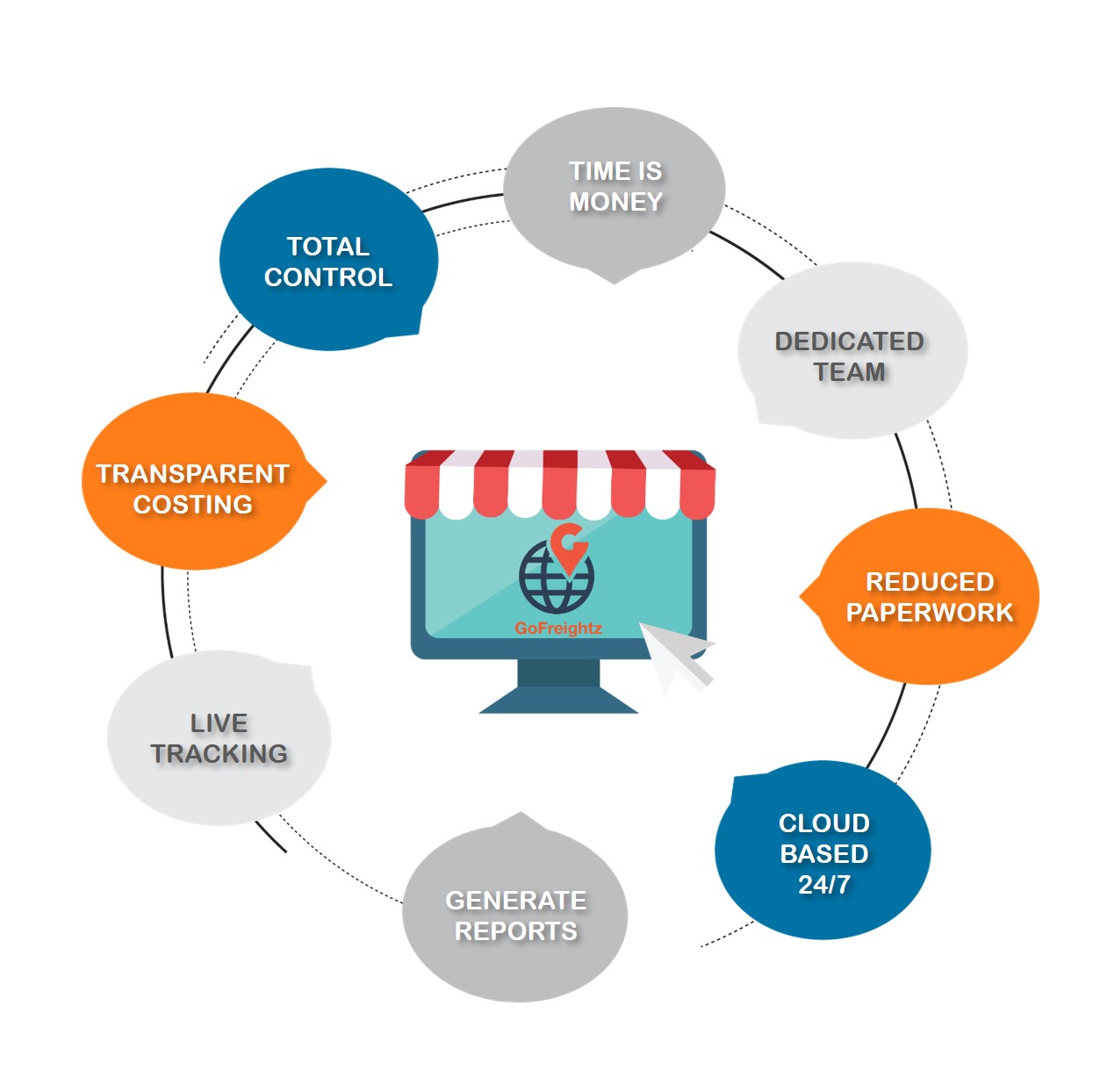 At GoFreightz, we can improve the industry by reducing friction. One way to accomplish this is to reduce the amount of times information is passed back and forth. Through our cloud-based platform, users can access at any time of the day and will only need to input the information about the shipment and hence be able to reduce the amount of paperwork and giving them total control of their shipment.
Users will be able to track their shipment live with our tracking feature and make accurate estimations on the date of arrival as time is money for them. All quotations and invoices are transparent and available online and users can also make payment through our payment gateway. They can generate expenditure reports for their future budgeting or accounting purpose.
For customer service, we have a dedicated team to follow up on each orders and handle any inquiries or problems faced by our users. Users can reach us via our live chat feature that will be available on our platform or choose to call or email us directly.

Competitors Analysis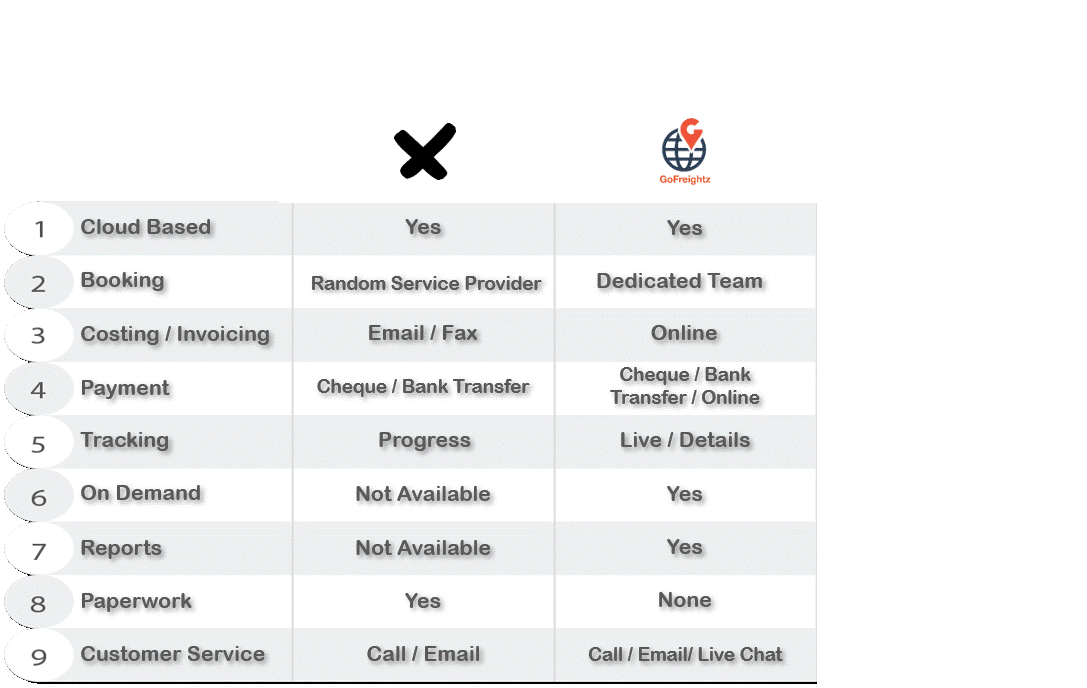 Most of the freight forwarders are already cloud-based or moving into this space except their booking system. For service marketplaces, they have random service providers while others are merely booking sites that collect the information about a shipment and ship.

On the contrary, GoFreightz collects the information and have a dedicated team to follow up and to ensure shipments are in order and to reduce delays to a bare minimum. Costing and invoicing are traditionally done via email or faxes and still being practiced despite the digital age. GoFreightz on the other hand has everything online, retrievable whenever necessary.
At GoFreightz , users can opt to pay online via our payment gateway other than just cheques and transfers. Tracking from other providers are merely progress tracking while GoFreightz provide live tracking using GPS provided by Inmarsat from our dashboard. Users will be able estimate more accurately the estimate time of arrival for their shipments.
Through our platform, users can also make on-demand request such as extra drop points or last minute warehousing arrangement where else normal freight platform do not have this function except when the items have arrived.
Lastly, we provide users will multi channels of communication with our team including calls, emails and even live chat function that will be available on our platform.
Funding Objectives

Funding amount required: RM200,000 - RM300,000

Management Team
Marvin Yee Koon Fai
Co-Founder
Marvin has been in the sales line for 8 years, from direct door-to-door selling, telesales and banking, plus 9 years of experience as the sales and project manager in two event companies.

He is experienced in management as team leader in Bank and also as assistant manager before being promoted as project manager.

His role with GoFreightz is to build the networking, marketing and to study all relevant data for decision making.
Tan Way Han
Co-Founder
Way Han has 5 years experience in manufacturing industry where he was tasked with supplying of goods and setting up supply chains across the ASEAN region. That was where he was exposed to freight and have a decent amount of knowledge on how it is being handled.

His role is to manage the operations along with the vendors.
Barnett Lim Yong Fatt
Co-Founder
Barnett has 13 years experience in computer system development and integration and 5 years as a system engineer for a logistic company. He is one of the experts in development of APIs and database.

He is responsible for the development, integration and management of the platform.
---
Corporate Information at A Glance

NAME OF COMPANY
Gigas Global Sdn Bhd

REGISTRATION NUMBER
1199187-M

DATE OF INCORPORATION
22nd August 2016

REGISTERED ADDRESS
149A, Jalan Aminuddin Baki, Taman Tun Dr Ismail, 60000 Kuala Lumpur
COMPANY SECRETARY
149A, Jalan Aminuddin Baki, Taman Tun Dr Ismail, 60000 Kuala Lumpur
Laang Jhe How (MIA 25193)
AUDITOR
Leou Associates Plt (AF 002123)

WEBSITE URL
https://www.gofreightz.com/