VMO (pronounced as vee-mo) is an instant booking platform for event venues and services online with over 800 listings on the platform and having generated over RM40 million worth of inquiries.
---
PROBLEM STATEMENT
When was the last time you booked a venue for a casual event for family, friends, or colleagues? Chances are, the flow chart below pretty much summarises the experience for most people.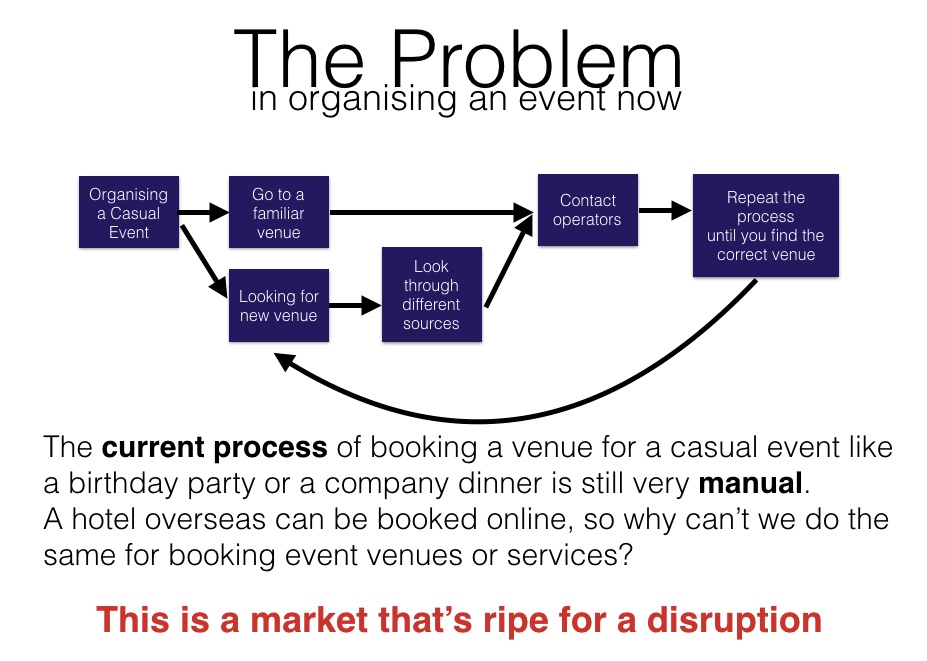 For professional event organisers or planners, gathering and sorting out hundreds of venue options in Malaysia (and possibly overseas), analysing availability and suitability, asking the right questions, and managing multiple operators, bookings and payments is already challenging enough, and what more for the rest of us who are not professional event planners. The entire process of planning a casual event like a birthday or a gathering can sometimes be overwhelming, demanding and occasionally frustrating when you have to contact a space, check for availability, and ask for the menu, work out something you like, and then repeat the process with several places. And this doesn't even include adding in additional event services like a clown, or a musician.
---
SOLUTION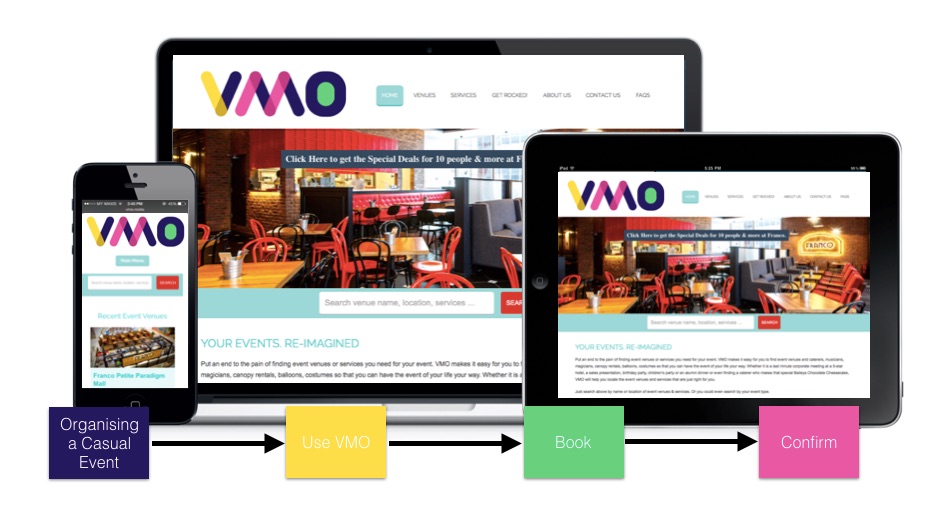 With VMO, booking event spaces need not be so dramatic anymore.
VMO is an instant booking platform for event spaces and services. VMO helps anyone planning an event or function, discover and book that rocking event space or service easily and painlessly.
At VMO, we are passionate about helping our users find their perfect event space or service. We believe in helping people experience a whole new way in how they discover, compare and book event spaces. Just search for what you want by typing your type of event (e.g. "birthday party", "wedding", "meeting"), type of event space (e.g. "cafe", "private room") or even number of guests you will (e.g. "200 pax").
From busy corporate professionals, event organisers to party planners and average joes on the street, VMO is about matching people with the perfect venue for their event of choice. We are equally passionate about helping venue owners promote their space for the right type of event, connect them with the right clients, all the while helping them save time and grow their revenue.
Whether it's a 100,000 sq ft convention centre or a cozy neighbourhood cafe, VMO takes care of the nitty-gritty managing the listing, the short-term availability, direct booking, payment reimbursement and let the event planner and venue owner focus on what's important is the fun and success of the event. We take away the pain and difficulty of finding that perfect event space and matching the right services so that you can have the event of your life!
---
BUSINESS MODEL
VMO is an online booking platform that connects users to venue or service providers online
Users are offered a plethora of choices of event venues and service providers, with a further option to select an event venue based on number of attendees, location, budget and ambience of venue

VMO seeks to be the complete solution for event organisers to plan out their dream events
---
REVENUE MODEL
Present
Future
Revenue from selling add-on services

Potential advertising revenue

Monetising data via big data analytics
---
INVESTMENT HIGHLIGHTS
VMO is a validated market disruptor of the event planning space with instant booking, comparison and confirmation of venues/services

Since its inception, VMO has grown to over 800 listings with RM40 million in enquiries value

Targeted revenue of RM281,000 for the year ending 31 Mar 2018, with expectation to breakeven in the year ending 31 Mar 2020 on revenue of RM3.8 million

Strategic shareholder in Rhombus Food Holdings group, a regional F&B owner and operator in South East Asia, gives VMO access to its network of over 42 retail outlets

VMO's founding team has a combined experience of over 50 years in marketing, strategic consulting and web application development

This fundraising campaign comes under Cradle Fund's co-investment program with CrowdPlus.asia whereby amounts invested by qualified investors will be matched by Cradle Fund in return for equity on the same terms as the investors
---
FUNDING OBJECTIVE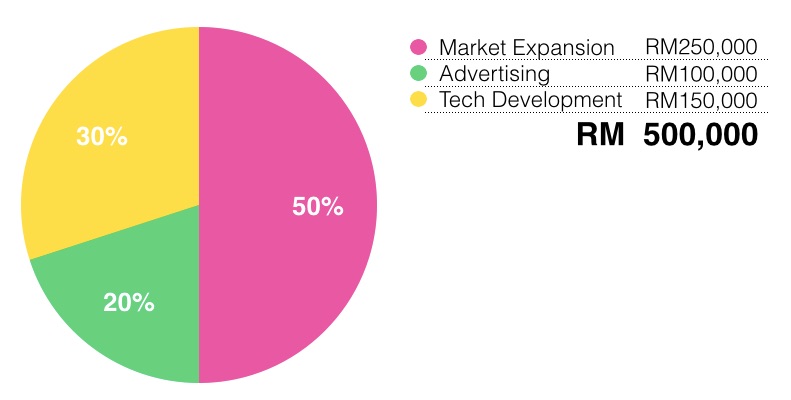 Funding amount required: RM500,000

50% - market expansion to expand to Penang, Ipoh, Melaka & Johor Bahru

30% - technology development such as upgrades of the site's user experience and the development of a mobile application

20% - advertising & promotion like search advertising, social media advertising and on the ground promotions
---
MANAGEMENT TEAM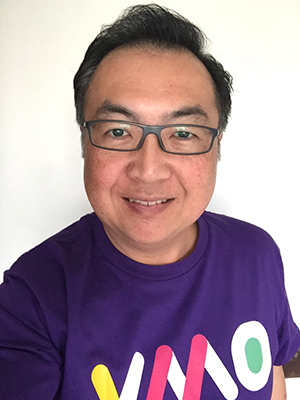 VINCENT KOK
CEO
Vincent Kok graduated with a BSC in Microelectronics & Computer Science from Campbell University. Since 1994, he has been involved in digital media developments of information kiosks, CD-ROMs to the earliest Asian websites. These projects have taken him from Malaysia to Singapore, Indonesia, Thailand, Laos, Brunei, Cambodia, the Philippines, Hong Kong, China, South Korea, Australia & the United States.
Prior to starting VMO, Vincent was instrumental in the deployment & promotion of a travel e-commerce platform for the travel industry, which had grown to over 1,400 industry users in 40 counties by the time he left. He was also previously CEO of LocalSIMKad, where he had grown the coverage of services to include 44 countries from Asia to the Americas. The previous experience of building and marketing platforms led Vincent to build VMO.
Vincent Kok was one of the earliest certified Google Advertising Professional in Malaysia, achieving that distinction in 2007, before Google even had a Malaysian office.
---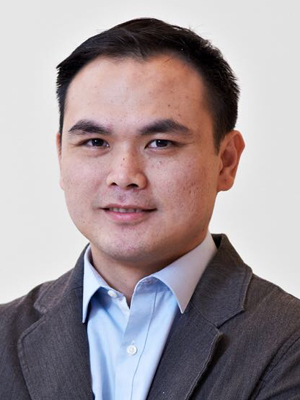 TEOH HOAY MING
COO
Hoay Ming previously served as the Chief Operating Officer of Cuscapi Berhad from July 2010 to September 24, 2013. Hoay Ming served in various technology and consultancy companies in the last 10 years. He has accumulated vast experiences in IT project implementation and business consultancy, during his tenure in Dell and Accenture. He then joined Adeptis Solutions in 2003, leading the development and marketing of its automotive solutions. He also served and managed the delivery of IT projects for various local and regional clients, mainly in telecommunications and automotive industry.

Some of these clients include TIME dotcom, Advanced Information Services (Thailand), Celcom, Jaring, Hyundai Sime Darby Motors, and Naza Group of Companies. He served as a Director of Cuscapi Berhad (July 1, 2010 to September 2013). Hoay Ming holds Bachelor Degree in Electrical Engineering from Universiti Teknologi Malaysia (UTM).
Hoay Ming brings his operational and project management strengths in helping VMO develop the next phase of our digital solutions.
---
THAM LIH CHUNG
Advisory Team Member
Tham Lih Chung, a FCCA and Chartered Financial Analyst,(CFA) began his career as an auditor with Moore Stephens and KPMG. He spent 4 years as an investment banker in Malaysia and 3 years with MMC Corporation Berhad, a large infrastructure and utilities group in Malaysia which owns Gas Malaysia, Port of Tanjung Pelepas, Johor Port, Penang Port, Northport, and Malakoff Power. He was in charge of corporate strategy which includes M&A, fund raising, IPO and restructuring. He left as an Assistant General Manager and began his entrepreneur journey in 2012. He had ventured into event management, exhibition, branding, architectural and fit out, construction, trading and finally found his calling in F&B. He sold his stake in a F&B group in 2014 and co-founded Rhombus Food Holdings.
Tham is currently the Group CEO of Rhombus Food Holdings, a F&b ecosystem company which owns 19 home-grown brands which include, among others, Wondermana, Rama V, Dancing Fish, The Morning After, The Beer Factory, and Suzie Wong. The group currently has 42 outlets across 3 countries, Malaysia, Singapore and Myanmar.
Tham brings his considerable network of F&B industry partners into helping grow VMO's base.
---
JOHN LIM
Advisory Team Member
John holds a Bachelor of Commerce (Accounting & Finance) degree from the University of Melbourne. He has more than 20 years of entrepreneurial and business experience in the advertising, media and technology industry. He is currently the founder & CEO of AcePremier.com, a print & digital media company in Malaysia with a team of 30.
He was the key management personnel in two Singapore technology companies - Cyber Village, a systems integrator which was listed in SESDAQ back in 2001 and Buzzcity, a mobile ad network focusing in South East Asia, South Asia & Africa.
John brings his wealth of experience in digital startups to VMO and extends assistance through his publishing team in creating content and reaching out to corporate customers.
---
LEGAL DUE DILIGENCE
By Chee Hoe & Associates (Advocates & Solicitors)
A legal due diligence exercise has been carried out on the Issuer. The scope of the legal due diligence exercise includes checking and reviewing of the Issuer's corporate records, business contracts and employment contracts.
The legal due diligence exercise reveals that:
Subject to:
the satisfaction of all the Conditions Precedent set out in the Term Sheet;

Teoh Hoay Ming being appointed as the director of the Company; and

Rhombus Capital Sdn Bhd, Teoh Hoay Ming, John Lim and Rhombus Food Holdings Sdn Bhd becoming the remaining shareholders in the Company, there is no issue, business or affair which may materially and adversely affect the Issuer's ability to perform its obligations thereunder in the Term Sheet of the proposed equity crowdfunding exercise; and there is no corporate record, contract and/or agreement to which the Issuer is a party that has provision prohibiting a change in the shareholding of the Issuer or requires such change to be conditional upon consent being obtained, save that the Issuer shall amend its articles of association in accordance to the terms stated in the Term Sheet of the proposed equity crowdfunding exercise
---
CORPORATE INFORMATION AT A GLACE
NAME OF COMPANY
VMO Rocks Sdn Bhd
REGISTRATION NUMBER
976875-P
DATE OF INCORPORATION
2 February 2012
REGISTERED ADDRESS
24-2, Jalan PJS 11/28, Bandar Sunway, 46150 Petaling Jaya, Selangor
BUSINESS ADDRESS
B-15- 03A, Menara Bata, PJ Trade Centre, No.8, Jalan PJU 8/8A, Bandar Damansara Perdana, 47820 Petaling Jaya, Selangor
COMPANY SECRETARY

Boardroom Solutions Sdn Bhd
AUDITOR
K.H. Chong & Co
WEBSITE URL